Technology in the Classroom: Computer-Aided Design for Fashion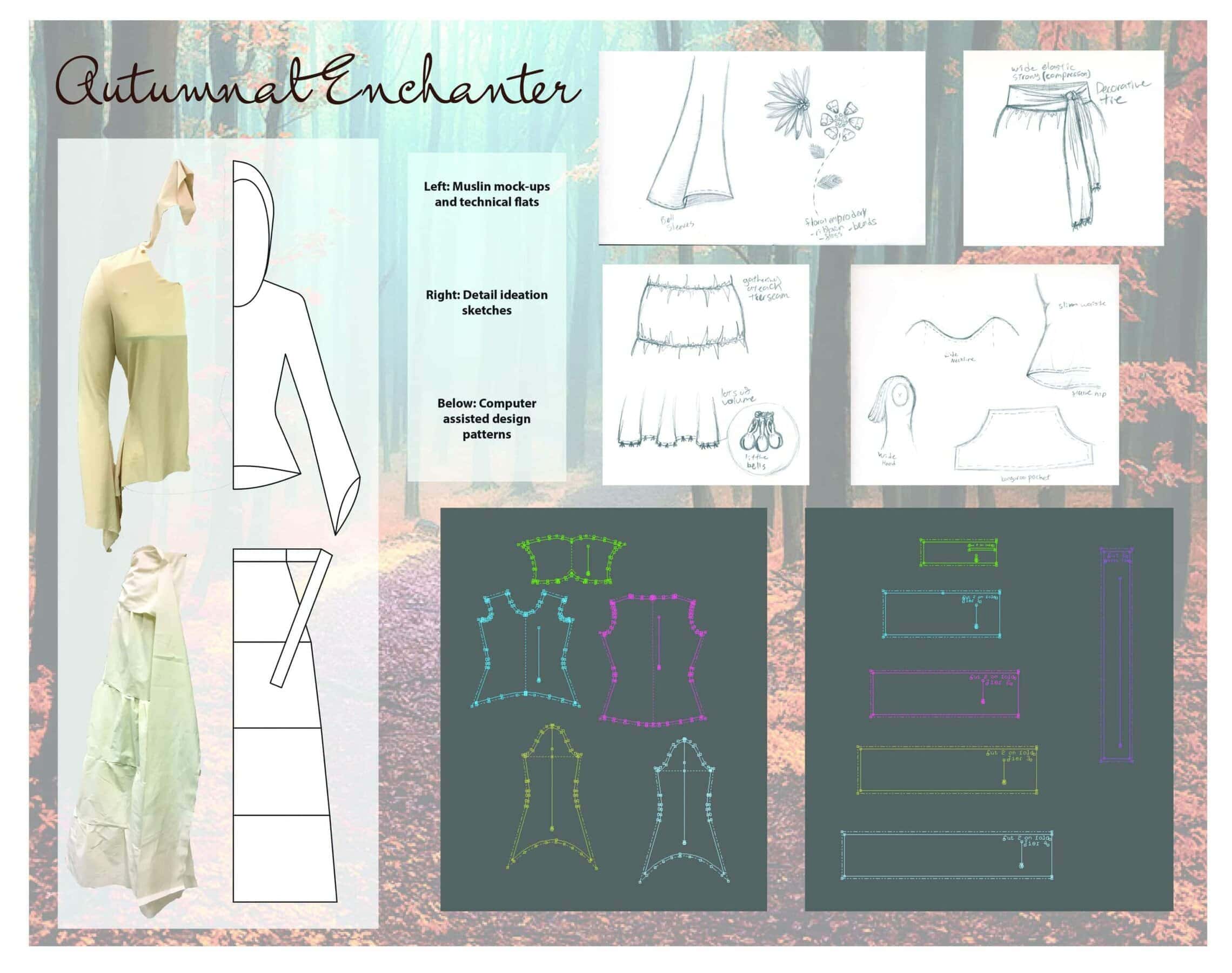 In fall 2018, the Center for the Arts & Design held its first Computer-Aided Design (CAD) class in the new design lab, gifted by alumna and trustee Antonina Lerch. The lab is located in the Redwine Technology Center within the Brenau Trustee Library. As fashion design becomes more and more digital, it is important that the fashion program utilizes relevant technology to provide students with the experience they need to be competitive in the industry.
For this course, the students learned the basics of computer-based pattern-making through Human Solutions' Vidya CAD, resulting in a set of basic blocks as well as garment patterns that were tested on digital 3D avatars. Students also learned digital textile design, using Adobe Photoshop and Illustrator. Finally, the students utilized iDigit digitizing software to translate paper patterns into an electronic format.
For the first project of the course, taught by professor Robin Carufel, the students created basic blocks in CAD. Basic blocks are key tools for apparel businesses as they represent the basic body dimensions of a target customer and function as the building blocks for all of the designs an apparel business develops. For example, each shirt a business sells starts out using exactly the same basic front, back and sleeve block pieces; this ensures consistency across all products offered by an apparel business.
The students created front and back bodice blocks, a sleeve block, and front and back skirt blocks. Basic blocks were developed using body measurement standards from the American Society for Testing and Materials. ASTM offers standards for all ages of the market, from infants to mature men and women. Students were given the choice of which ASTM standard to choose from among 24, and all chose the Missy sizing standard, which is used by the majority of the women's apparel industry. To complete the blocks, students included standard pattern markings such as grainlines, notches and seam allowances.
For the second project of the course, co-taught by Carufel and professor Claudia Wilburn, students designed and patterned a garment, digitally tested the garment on three-dimensional avatars within Vidya CAD, sewed muslin mock-ups to physically test their patterns, developed textile prints for their garments, and then sewed the final outfits using the digitally printed textiles. Students altered their basic blocks to develop their fashion designs.
Since each student had a different design, each mastered a different technique for altering their basic blocks; flat patterning techniques were adapted to work in CAD, as there are no computer patterning textbooks. Students also virtually sewed their garments onto avatars in Vidya to assess how well their intended design was realized. Once the patterns were finished, the students created markers (pattern layouts) to print them. These printed patterns were then cut in muslin and sewn to test the full-scale garments in real fabric on a physical dressform.
Using CAD software to develop patterns ensures greater precision in the pieces," said fashion design junior Jordyn De La Rosa. "Also, since I can virtually sew garments in Vidya, it reduces the number of muslin mockups required to test a design."
Wilburn led the students through the process of developing digital textile prints using Adobe Illustrator and Adobe Photoshop. The textile prints they created were digitally printed by Contrado on jersey, plain-weave cotton, silk satin and polyester satin, depending on the fabric required by each student. The students were required to incorporate their original textile designs into a minimum of 25 percent of their garment. Students also created project boards to display their work. These boards included the sewing patterns, a fashion illustration, technical flats and a photo of the muslin mockup. Finally, students constructed their garments from fashion fabric, including their digitally printed textiles.
In the final portion of the course, professor Charity Armstead collaborated with the Gainesville Theater Alliance's costume shop to digitize historic designer patterns that had been donated to the theater department, so that the patterns can be used in garment construction without compromising the fragile original paper patterns. The students digitized rare patterns by fashion icons such as Claire McCardell, Harvey Berin, and Jo Copeland. The digitization of these patterns makes them accessible to fashion and theater students and faculty. Digital patterns allow for the reproduction of garments and costumes, as well as allow students to examine the design techniques used in historic patterns; thereby providing ample learning material for other classes in the fashion and theater departments.